view » his side . her side . poetry
His side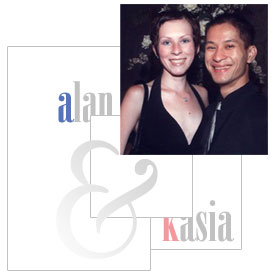 On one of
my many trips to Europe
, I decided to visit
Warsaw
in Winter 2000. I met a guy at the Empik Record store in the Galleria shopping center. I don't remember his name, but he told me that I should visit a small city called Bialystok in the north east of Poland. When I asked him why, he told me because that's where the Polish guys would go to get married!
I laughed it off then, but the following year when I was planning for another trip to Eastern Europe, I decided that I will stop by Bialystok since I was going to pass by there on the way to Lithuania and Latvia. Before coming to Bialystok, I emailed several people I found on yahoo.com profiles asking them to come out and meet us (I was traveling with my brother). A girl by the name of Agnieska replied and told me that she is away in Germany, but her friends in an international student organization called AIESEC will gladly meet us and show us around.
My brother, Quan, and I arrived in Bialystok on a Sunday in November 2001 and was met by Radek (middle), a pleasant Polish guy who eventually became a good friend. Radek together with the AIESEC members arranged for us to stay at Cisek's house that night. We partied until late in the night...
The next day we toured Bialystok. It became clear to me why Polish guys come here to get married! That evening, Cisek had to attend a weekly AIESEC meeting. We were invited to attend.
As we wandered the halls whereever the meeting took place, we ran into a group of three AIESEC girls. One of them, a very cute blonde, introduced herself as Kasia. I remember asking "Is that Kasia with a 'K'?" That was my second sentence to my future wife.
At the meeting, I kept looking over to Kasia. She was doing the same. After the meeting, the group decided to go to Mandala, a local pub, for drinks. As I have hoped, Kasia also came out.
As the evening went by, for over half an hour, I was always occupied with talking to all the AIESEC members curious about why I was in Bialystok at all, let alone in the WINTER! It was snowing pretty heavily outside. All those conversations and not a single word to Kasia. Before I had a chance, Kasia got up and grabbed her coat. Shit! She was leaving! It was getting late and she has to make the bus. I tried desperately to stop her. I wanted to talk to her and I was leaving for Lithuania early the next morning. I couldn't convince her. That was it!
Another beer and I was self-convinced that how the story was to end. About 10 minutes, the girl in the long red coat came back. The next bus is still a while away and it's really cold outside, Kasia explained. I was secretly very happy. I talked to Kasia for the next hour at Mandala. I think I got her a beer which lasted her the entire time.
As the night winds down, Cisek invited everyone to come back to his place for more partying. Kasia wanted to go home. After going back and forth, I took her mobile phone and refused to give it back to her. She was coming to Cisek's place and I was not going to let her leave.
At Cisek's, we had more drinks and more conversations. Quan gave his infamous martial arts demo that thoroughly impressed everyone. I spent another 2 hours talking to Kasia. We talked about everything and anything. Her English was amazing and her ability to handle conversation was impressive. The time approached 4AM so Kasia and the remaining people said goodbye. She and 2 others called for a cab. As the cab approached, I tried to sneak in a kiss after a hug. Kasia pulled away, but not quickly enough. That was our first kiss, or rather my first kiss on Kasia...and that was how we met.
To this day, I still look back and be thankful for the weather and the bus schedule that night. I think about that heavy metal long hair scrawny guy from Empik and what he said. I think about the email I sent to Agnieska and about the mobile phone trick I pulled. If you haven't read 'The Alchemist' by Paul Coehlo, I highly recommend it. It's a deep simple story about a shepperd who left everything to seek his treasure. Coehlo talks about signs and recognizing the signs. He says that you will know the signs when you see them and they will lead you to the treasure you seek. I recognized my signs and found my treasure.
Her side
In Progress...